the food of lebanon
02.08.2010
38 °C
ok, i was raised lebanese. so i naturally eat more than necessary, or so i thought. i have told a few people that when a lebanese person is putting food in your plate, tell them it is enough before they start. because they will always put two more scoops in your plate (especially if your a dude). this was proven true with my aunt who was putting some tabouli in my plate and said "is that enough?" after i said yes, she proceeded to put two more spoonfuls into plates without flinching. eating in lebanon is a prediction game. You have to know how much you want, then take away two servings and tell them to stop at that amount. it keeps things interesting.
now as for drinks, i am a poor college student, as most of the readers of this blog are. and i also am a fairly healthy guy, when it comes to drinking. so my drink of choice in the states is water. well, in lebanon tap water is not too safe to drink (especially for foreigners) so everything is bottled water. the option for tap in a restaurant isnt even available. now, as we all know bottled water isn't free, so there goes one reason for choosing that as a drink option. so i start to think about what else i could drink, since i am going to have to pay for it either way, right? well, soda in general upsets my stomach. so all soda is out the window. even though every one here is in love with a drink called 'miranda'. it is simply put, orange soda. my sis says it tastes better than in the states, but i haven't tried it so i cant say. every time they drink it, though, i say i want to try it, but my stomach protests so i dont. the other option is alcohol. i dont have a problem with alcohol. there is no reason to say that someone shouldn't drink, its not biblical so i dont support it. if you know me, though, i hate the taste of all alcohol. even alcohol flavored chocolate is nasty to me. girly drinks with only a little alcohol i cant stand either. so, in short, alcohol is not the choice for me. so i stick with bottled water, even though the nation of lebanon and everyone in it frowns at me every time i do. (sweet tea doesn't exist this far away from the dirty south)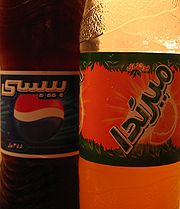 ok, americans do not know how to entertain guests like the lebanese. in fact in lebanon having guests is a lot of work, especially for ladies. when the person sits down in one of your living rooms (because there are 2-3 of them) you begin. First comes some cookies or small pastries. Then turkish coffee for all who drink it. Then some fruit juice for those who don't drink coffee. Then fruit. Of course the fruit is fresh because everyone in lebanon has a garden in their backyard. or they know someone who does. so fruit. then you have probably been there for about 2 hours by this point and it is time for some sort of meal. so they invite you to sit and eat. if you accept you will need to read the first paragraph of this post to know how to not eat too much. Odds are you will do this two to three times a day, so pace yourself.
that is just a tid bit about food in lebanon. if you have questions, please ask!
serge
Posted by serj n syn 01:12 Archived in Lebanon Tagged food